back
Women in Energy: Amber Shulaw
Mar 08, 2022
In celebration of Women's History Month and International Women's Day, LAGCOE is highlighting women who have been instrumental in the energy industry and supporters of our organization. Our intern, Meredith Privat, interviewed six women. Here is the second, Amber Shulaw.
"Life is not easy for any of us. But what of that? We must have perseverance and, above all, confidence in ourselves. We must believe we are gifted for something, and that this thing must be attained."
—Marie Curie, physicist, chemist, two time Nobel Prize winner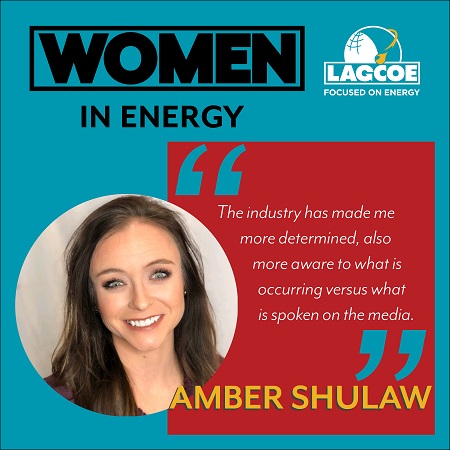 Women have had the challenge of being overlooked in history, though there have been many great contributions towards society that would not have been possible without them. We all know about famous names in energy such as Nikola Tesla and Albert Einstein, but what about Edith Clarke, inventor of the Clarke Calculator, or Lise Meitner, the scientist discovered nuclear fission? Americans highlight the overlooked figures by celebrating Women's History this month. To commemorate the month of March, LAGCOE will be looking at some modern women in the Energy Industry who have worked hard in their positions in various companies.
Name: Amber Shulaw
Company/Organization: Honeywell
Position: Project Management
The second woman we reached out to was Amber Shulaw. She received her bachelor's degree in business management at the University of Louisiana and her Master of Business Administration in project management at Columbia Southern University. She resides in Sugar Land, TX. Amber is currently a Project Management expert currently working at Honeywell. She has been working in the energy industry since the year of 2007. Since then, the industry has impacted many aspects of her life. She says, "The industry has made me more of a determined individual."
Amber's advice to young girls who are considering the pursuit of a STEM-centric career is to not work for a small company. She elaborated by saying, "Work for a major where ethics and integrity are valued! I am currently working for a major and there is a huge difference in not only how women are treated but people from different origins."
When asked if she ever felt like she was at a disadvantage in the energy industry, she answered honestly: "Every single day! Cannot tell you how many times, I was told I could not do a task because I was a woman. Or I was only successful because I was a woman. However, it made me more determined. I made sure I knew the ends and outs every project; because, in most cases if a man could not provide an answer to a question that was considered acceptable. If a woman did not know, well that meant she was incompetent. I held positions where management did not expect me to perform as well as I did. As a result, I was literally laid off and/or had projects taken away. But I guess when you are bringing in 50% to 70% of the revenue, that scares some people. Every single time I faced difficulties, I took that as an opportunity to grow. I either received more education or moved up in another company. I had many individuals take me under their wing and mentor me in specific areas and for that I am extremely grateful. Those people made a huge difference and I hope to do the same for others." Amber's experience is not unusual, but she continues to strive to work hard within the industry.
***
Blog entry by Meredith Privat. Meredith is an intern with LAGCOE majoring in Visual arts at the University of Louisiana at Lafayette.