Steve Maley Announced as 2022 LAGCOE Looey
Oct 05, 2022
FOR IMMEDIATE RELEASE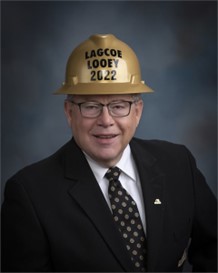 LAFAYETTE, LA. (October 5, 2022) — LAGCOE is proud to announce Energy Fest's 2022 LAGCOE Looey as Steve Maley, Vice President of Operations for Badger Energy, LLC. Mr. Maley became affiliated with LAGCOE in 2007 as a volunteer after Badger's founder, Paul Hillard was named LAGCOE Looey. He followed his service-oriented spirit and joined the LAGCOE Board of Directors from 2009-2017 and as Chairman of the 2015 LAGCOE Expo.
Steve was born in Kansas and schooled in Oklahoma, where his parents both worked for oil companies. After graduating from the University of Oklahoma, a job opportunity from Shell Offshore enticed him to leave the Plains for the Gulf Coast. Mr. Maley stated, "I've been fortunate to work most of my 45-year career in South Louisiana, which I consider home." In 1995, Steve joined Lafayette-based Badger Oil Corporation gaining an independent perspective in oil and gas. In 2012, Steve was appointed to Louisiana's Oilfield Site Restoration Commission, which oversees the Office of Conservation's orphan well program. He is currently serving his third term.
Steve and his wife Paula, a New Orleans native, now live in Mandeville. Their greatest joy is spending time with their grandson in New Orleans and granddaughter in Chicago.
"We are very excited to have Mr. Maley as our LAGCOE Looey this year. With his esteemed career and years of service dedicated to this organization, he was the perfect choice for the prestigious honor," said Sara Bourque, LAGCOE Executive Director.
With the theme Rooted in CULTURE. Propelled by INNOVATION. Transformed by YOU. LAGCOE promises an unforgettable experience. In its 67th year, LAGCOE's history has been traditional oil and gas, the organization is transforming and broadening its scope to support all forms of energy – working to show the synergy between renewables and traditional sources. Facilitating a synergistic view across all sources of energy, striving to make all forms safer for the environment. The best way to accomplish this transformation is to bring people together in a highly collaborative environment where this event can facilitate the exchange of ideas with a strong challenge for better outcomes.
The event will offer energy industry professionals access to state-of-the-art equipment, service, and technologies as well as technical presentations and training.
###
LAGCOE is a nonprofit energy industry organization focused on educational programs and a technical exposition & conference. LAGCOE's mission is to cultivate economic growth of the energy industry by facilitating domestic & global business development and fostering the energy workforce pipeline. LAGCOE's vision is to be a robust, sustainable community of energy companies and volunteers that promotes energy education and awareness; connects businesses with opportunities, and showcases the Gulf Coast's technical innovations to the world. Energy Fest – The LAGCOE Expo will be held October 19-21, 2022, at the Cajundome Convention Center, Louisiana, USA. Learn more at www.theenergyfest.com


FOR MORE INFORMATION, CONTACT:
Sara Bourque, LAGCOE Executive Director | sara@lagcoe.com | 337.235.4055