Smith Mason & Co: Building a safer energy industry, one classroom at a time
Oct 18, 2022
Over the course of his four decades in the oil and gas industry, Randy Smith has learned the importance of safety. Whether working in the desert heat of Iran as a roughneck on land rigs or in the icy North Sea teaching well control for offshore rigs, he's seen proper training save lives. It was while working in Iran that he experienced a well blowout for the first time. Luckily the crew was able to bring the well back under control with no lives lost, but the experience shook him. He decided that he would dedicate his career to preventing those types of incidents through well control training.
He started his own business in the late 1980s: Randy Smith Training Solutions. The company was well known for its expertise in well control education, and over the course of 20 years it grew to include stuck pipe prevention (developed with BP) and TRUE (Training to Reduce Unscheduled Events) training, among others. After noticing that problems like stuck pipes often happened because of poor leadership and bad communication, Smith created a course to help improve those skills as well. His leadership courses helped supervisors learn how to manage different personalities and workplace challenges in high stress situations.
After retiring for several years when his company was bought out, Smith's passion for safety eventually led him to found Smith Mason and & Co in 2014. Along with partners Marcus Mason (CEO) and Larry Schmermund (COO), Smith established an industry-leading training provider that continues to grow to meet the changing needs of its clients. Throughout his long career, Smith has helped everyone from roustabouts to rig superintendents understand the fundamental principles of turning a problem well into a job well done. In 2021, Randy Smith was presented with the IADC's Exemplary Service Award for his career-long dedication to improving the drilling industry and advancing its safety, training or technology.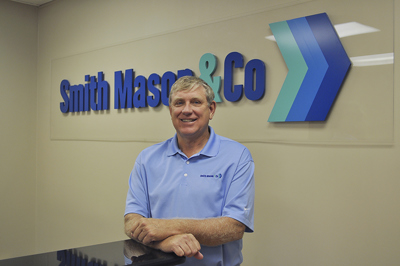 "It's about saving lives, keeping everybody off the 6 o'clock news and everybody coming home and being with their family. If we can help make that happen, we feel good about ourselves," says Smith.
Smith Mason & Co provides well-control training required by the International Association of Drilling Contractors (IADC). It was one of the first training schools to adopt IADC's WellSharp curriculum, which was designed to raise the bar for well control training. By focusing on student comprehension of principles, the curriculum is designed to avoid just being a matter of rote memorization. Smith Mason & Co embraces this approach in all its training, combining traditional classroom work with innovative field simulators that can be brought wherever clients are located. Old school experience is combined with modern delivery tools to create courses that engage students and hold their attention.
The worst thing you can do as a teacher is to be boring, or to act like you don't care," Smith says. "We only hire passionate, effective communicators who can deliver lessons that inspire true learning. We discuss real-world incidents and case-studies in our classes, so students understand how important proper training and education is for everyone's safety."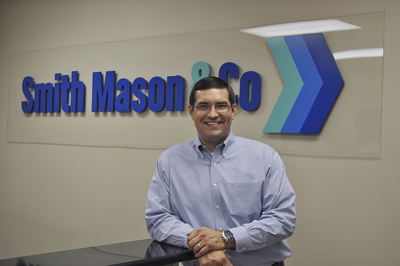 "Well-control incidents are the single most catastrophic events on drilling rigs," says CEO Marcus Mason. That's why we work to turn "well control incidents" into "well-controlled events" by teaching students how to prepare and react when things go wrong."
Mason, who started his career as a mud engineer in the Haynesville Shale, has worked in shale plays throughout the United States. Before joining Smith Mason & Co, he was the operations manager for the Western Geo-Market at Baker Hughes. He's seen how even successful companies can become complacent over time: "Training should reach every level of every organization," he says. "We work to eliminate complacency so that our students are alert to the hazards at all times."
Smith Mason & Co also offers accreditation via International Well Control Forum (IWCF) training, which is generally required for the offshore environment. Company COO Larry Schmermund is currently the vice chairman of the IWCF North American Branch and has more than four decades experience overseeing and teaching others about offshore rigs. He ran his own company for 15 years providing rig moving, shipyard project management, stability instruction and new build services. He has authored several textbooks for clients and conducted training for clients around the world. He joined Randy Smith Training Solutions in 2006 as worldwide marine training manager and now leads Smith Mason & Co's training efforts worldwide.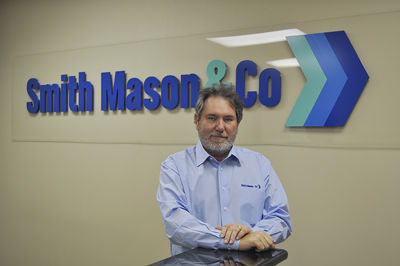 Larry
Smith Mason & Co has worked with its clients to develop new training and safety services, like rig and safety audits, coaching, and onboarding. With the price of oil holding strong and increases in hiring, the company is working to meet these growing needs. Smith Mason & Co will be moving to a new location on James Comeaux Road in November of 2022, doubling its classroom space and positioning the company for future growth. Smith Mason & Co offers in-person training at their facilities, located in Lafayette, Houston, Tyler, Midland and Jackson, MS, as well as off-site instruction using field simulators near job sites and virtual training anywhere in the world (including in foreign languages.)
"Once we've established relationships with our clients, they often approach us with other challenges to see if we can help," adds Schmermund. "We pride ourselves on being their trusted safety partner — we'll do everything we can find a solution that works best for them."
Learn more at https://www.smithmasonco.com.