POL 2023: Kristen Jones
Nov 03, 2023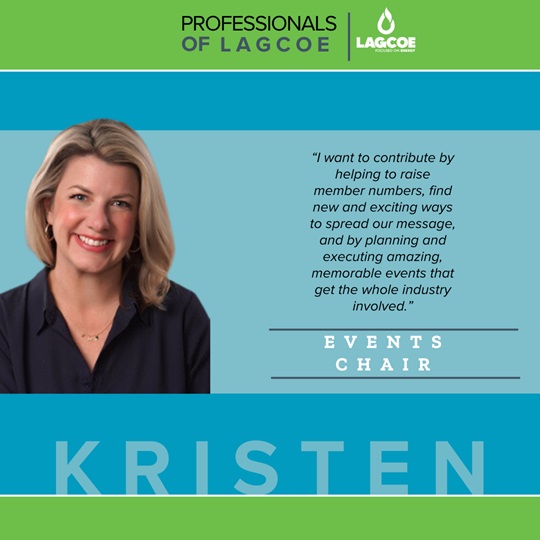 In our series introducing you to the dedicated board members of the Professionals of Lagcoe, we are pleased to present Kristen Jones, the Events Chair of this dynamic organization. As we delve into Kristen's background, her reasons for joining the Professionals of Lagcoe, and her vision for the organization's events, you will gain insight into the passion and commitment she brings to her role.
1. What Inspired Kristen to Join the Professionals of Lagcoe?
Kristen Jones' journey into the Professionals of Lagcoe is marked by a deep-seated desire to make a more significant impact in the energy industry. She recognized that Lagcoe, and the Professionals of Lagcoe, with its rich history and esteemed reputation, offered the perfect platform to contribute to a cause she believes in. Kristen explains, "I was inspired to join the Professionals of Lagcoe because I want to play a larger role in our industry than the scope of my job allows. PoL has a storied, respected history, and I wanted to be a part of an organization that makes a difference, spreads education and awareness, and would allow me to meet more of my fellow professionals."
Kristen's motivation to create a meaningful difference and connect with industry peers is at the heart of her involvement with the Professionals of Lagcoe.
2. Personal Goals and Aspirations within Lagcoe
As the Events Chair, Kristen has set ambitious personal goals for the organization. She aims to help the Professionals of Lagcoe evolve with the times, raise membership numbers, and find innovative ways to promote its mission. Kristen elaborates on her aspirations, saying, "My personal goals in PoL are to help our organization move with the times. There has already been so much of this accomplished with the Lagcoe rebrand, but I want to contribute by helping to raise membership numbers, find new and exciting ways to spread our message, and by planning and executing amazing, memorable events that get the whole industry involved."
Her vision reflects the Professionals of Lagcoe's commitment to growth, innovation, and community engagement.
3. What Kristen Finds Remarkable about the Oil & Gas/Energy Industry
What stands out to Kristen the most about the oil and gas/energy industry is its interconnectedness. She observes the intricate web of relationships within the industry and is fascinated by it. Kristen shares, "What stands out to me about the oil and gas industry is how small of a world it is. Everyone is somehow intertwined, and I love that. It also blows my mind that practically every day working in this industry, I meet people with such intelligent, earth-moving ideas about how our industry can change and evolve to help people and maintain our planet. There is such a passion in this industry, and it gets largely ignored by the outside world."
Kristen's insight highlights the industry's collaborative nature and the abundance of innovative ideas within it.
4. Getting to Know Kristen
Here's a glimpse into Kristen Jones' personal life:
Workplace: Kristen currently works at EPS – Expeditors & Production Services, actively contributing to the energy sector.

Origins: Originally from Sugar Land, TX, Kristen now calls Carencro, LA, her permanent home.

Hobbies and Interests: Kristen is an advocate for animals and dedicates her time to fostering animals in need, raising awareness about spay/neuter programs, and seeking volunteer opportunities with animal organizations in Louisiana. She also has a passion for gardening and maintains a substantial vegetable garden at her home in Carencro.
Kristen Jones' commitment as the Events Chair of the Professionals of Lagcoe showcases her dedication to planning and executing successful events, raising awareness, and connecting with professionals in the industry. Her vision for innovation, growth, and community engagement aligns perfectly with the Professionals of Lagcoe's mission to foster education, awareness, and industry collaboration.
Become a member of the Professionals of Lagcoe
The Professionals of Lagcoe (PoL) is an organization that originated as a committee within Lagcoe, officially becoming an independent organization on June 27, 2023. PoL's primary purpose is to promote professional growth, networking, collaboration, and foster education in and about the energy industry. PoL is committed to bringing together professionals, sharing knowledge, and contributing to the energy sector's success.