POL 2023: Jeremy Smith
Nov 02, 2023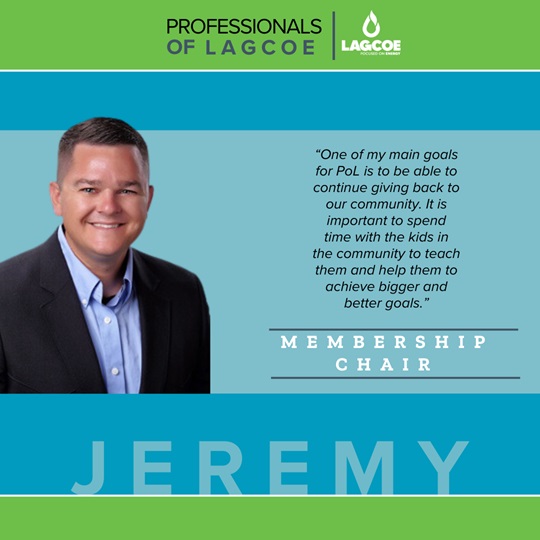 In our ongoing series introducing you to the dedicated board members of the Professionals of Lagcoe, today, we have the privilege of getting to know Jeremy Smith, the Membership Chair of this vibrant organization. As we explore Jeremy's background, his motivations for joining the Professionals of Lagcoe, and his vision for the future, you'll discover the passion and commitment he brings to his role.
1. What Inspired Jeremy to Join the Professionals of Lagcoe?
Jeremy Smith's journey into the Professionals of Lagcoe is deeply rooted in his family's multi-generational connection to the oil and gas industry. He shares, "Being a 5th generation Oil and Gas professional, I have always been driven to surround myself with successful people. The team that we have within the Professionals of Lagcoe is striving to not only give back to our community but is also passionate about what we do."
Jeremy's desire to be part of a community that not only fosters success but also gives back is a testament to his commitment to the industry and his local community.
2. Personal Goals and Aspirations within the Professionals of Lagcoe
As Lagcoe goes through a rebranding process and sets new goals, Jeremy has his sights set on a future characterized by continuous success of the Professionals of Lagcoe also. He has personal goals within the organization, with a particular focus on events. Jeremy notes, "Especially for two of our joint programs with Lagcoe that I would like to make annual." He is particularly proud of the "Little Energizers", which he believes will make a significant impact on the community. Additionally, Jeremy is enthusiastic about the "Roux Fest Gumbo Cookoff powered by Lagcoe" which will take place on February 8, 2024 at the Blackham Coliseum. He envisions this event as the new trade show face of Lagcoe and he sees the Professionals of Lagcoe playing a vital role in the implementation but also the growth of this event. His dedication to organizing and executing successful events is evident.
3. What Jeremy Hopes to Achieve as a Member
Jeremy's goals go beyond events and numbers. He places great importance on giving back to the community, particularly by working with children and helping them realize their potential. He states, "One of my main goals for being a Professional of Lagcoe is being able to give back to our community. The amount of time that you get to spend with the kids in the community teaching them and helping them to achieve bigger and better goals, that they never knew about."
His commitment to mentorship and community outreach highlights the value of education and empowerment.
4. Jeremy's Perspective on the Oil & Gas/Energy Industry
What stands out to Jeremy the most about the oil and gas/energy industry is the tight-knit nature of the community. He says, "The main thing that stood out to me growing up in this industry would have to be the friendships that you make. As big as this industry may seem, it is very small within the people that you may know."
Jeremy's observation underscores the significance of networking and building meaningful relationships within the industry.
5. Getting to Know Jeremy
Here's a glimpse into Jeremy Smith's personal life:
Workplace: Jeremy currently works in business development for Tiger Safety and PMI, showcasing his active role in the energy sector.

Origins: He hails from Mire, LA, and maintains his love for the outdoors, enjoying hunting and fishing whenever he finds the time.

Hobbies and Interests: While Jeremy loves outdoor activities like hunting and fishing, his greatest joy is spending quality time with his wife and children.
Jeremy Smith's commitment as the Membership Chair of the Professionals of Lagcoe reflects his deep ties to the energy industry and his passion for community engagement. His vision for impactful events and community outreach aligns perfectly with the Professionals of Lagcoe's mission to foster growth, education, and collaboration. Stay tuned for more introductions to the inspiring board members of the Professioanls of Lagcoe in the coming days.
Become a member of the Professionals of Lagcoe
The Professionals of Lagcoe (PoL) is an organization that originated as a committee within Lagcoe, officially becoming an independent organization on June 27, 2023. PoL's primary purpose is to promote professional growth, networking, collaboration, and foster education in and about the energy industry. PoL is committed to bringing together professionals, sharing knowledge, and contributing to the energy sector's success.