back
LAGCOE Endowed Professor at SLCC Prepares Future Generations
Feb 27, 2020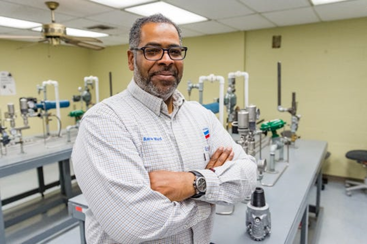 Aaron Ward, currently Department Chair of Petroleum and Manufacturing Technology as well as the lead instructor for the Oil and Gas Department at South Louisiana Community College (SLCC), is the first recipient of the LAGCOE Endowed Professorship at SLCC. Aaron, a native of Morgan City, Louisiana, earned his undergraduate degree in Petroleum Engineering Technology at Nicholl State University, and his MBA degree from LSU (Shreveport). Inspired by family members and members of the community, during summers in college, Aaron would work on anchor boats performing drilling rig moves offshore. He has worked in several positions within the oilfield industry. Started in slick line/wireline with Superior Energy Services and ascended to Wellsite Manager for Chevron. Understanding the need for the continuous creation of a robust workforce with technical and professional skills that would help bridge the gap of the great crew change, Aaron transitioned to teaching and become a full-time teacher of the Oil and Gas Program at SLCC. He took the program from its initial 7 students in the 2017 class to now 21. He is now planning student field trips to oil rigs, but also activities for elementary and middle school students. As Aaron continues to contribute for the oil and gas industry, we sat with him to know a bit more about the impact winning the LAGCOE Endowed Professorship at SLCC had in his program.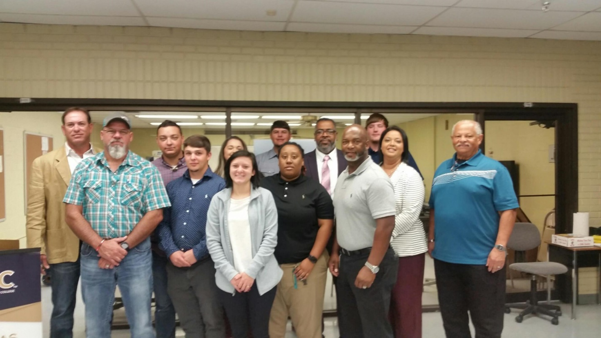 LAGCOE: What ignited your interest for the oil and gas industry?

Aaron: The industry has been the heartbeat of our economy ever since I was a little kid. Everyone around me that was successful, worked in the Oil and Gas industry.
LAGCOE: From wellsite manager to teacher? How was that transition?
Aaron: In 2016 I experienced the reorganization of Chevron, but I was blessed to get a position with SLCC teaching in the new Oil and Gas Program. I was already teaching an undergraduate course at Nicholls State University. Therefore, it was an easy transition. I played football at Nicholls State University and have always enjoyed coaching. So of course, my style of teaching is very similar to me coaching a football team.
LAGCOE: How did it feel to win the LAGCOE Endowed Professorship?
Aaron: The LAGCOE organization is well-valued and known across the world. I was truly honored to receive an award as such.
LAGCOE: What was the impact this endowed professorship brought to you and your program?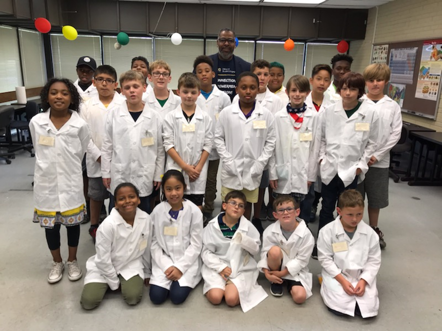 Aaron: This award has afforded myself, the SLCC Oil and Gas Program, and the community with the opportunity to do many things. With this endowment I decided to hold a summer camp for the kids of the community, as a result creating a future oil and gas industry supporter. They may not work directly in the industry, but my hope is that they would have a better understanding of our major economy drivers. I have also scheduled educational trainings and courses that will enhance my ability to teach my oil and gas students. And lastly, much needed equipment will be fabricated for the program, through the funds awarded by the LAGCOE Endowment Professorship.
LAGCOE: In your opinion what is the industry's biggest need? How are your working to help fulfill this need?
Aaron: In my opinion the industry's biggest needs are quality employees that possess vital fundamental technical skills, as well as interpersonal skills. My courses and exercises are geared toward creating that individual. I implement and focus on essential standards such as safety, professionalism, trust, integrity, conviction, ingenuity, how to effectively communicate as well as interpret the ideas of others, and critical thinking to name a few. The industry has plenty of workers. However, creating an individual of qualitative values and principles is my objective.
About the LAGCOE Endowment Fund
LAGCOE created the SLCC endowment fund in 2015 to help recruit and retain exemplary instructors in the college's oil and gas programs. The endowments include $60,000 toward a professorship to recruit and retrain instructors that provide direct jobs to the oil and gas industry, and a $15,000 scholarship for a student in an academic program that would provide jobs for the industry. In 2016, the Board of Regents Endowed Professorship Program provided an additional $40,000 toward the professorship. The Board of Regents also provided $10,000, and the SLCC Foundation provided $5,000 toward the scholarship.
Interested in making a tax-deductible donation to the LAGCOE Endowment Fund, a division of the LAGCOE Education Fund? Click here to donate!