Forbes Magazine - Five Questions to...Fumy Rita
Apr 04, 2023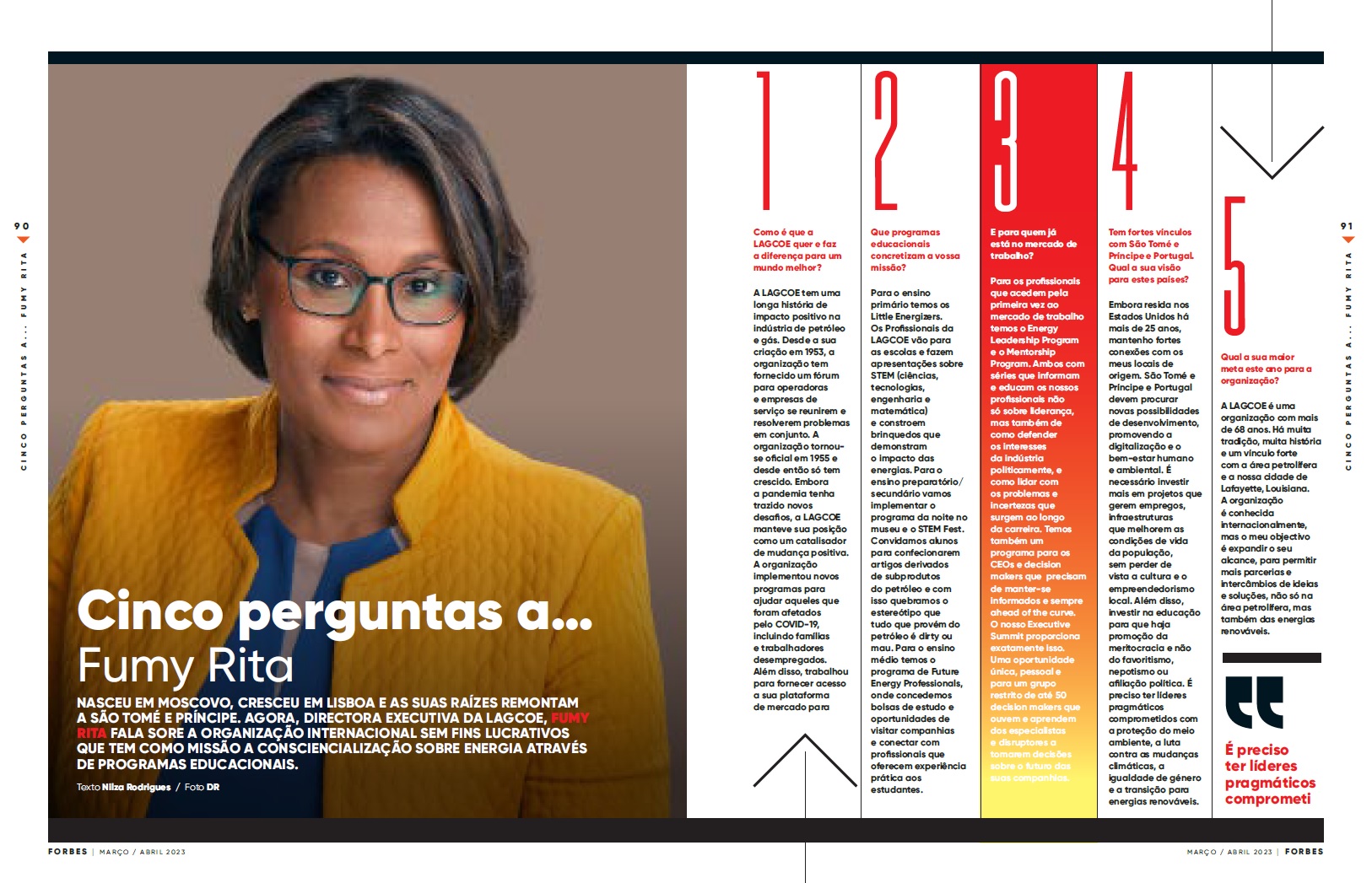 Article by: Nilza Rodrigues
Magazine: Forbes Africa Lusofona Number: March/April 2023
Edition Theme:
Our Responsibility.
This Forbes África Lusófona edition has as keyword - Social Responsibility. We share stories of social impact and leaders who are making a difference in this lusophony. We are not short from rankings, mood, and the digital businesses that are increasingly disruptive and giving birth to a new generation of entrepreneurs. Enjoy the reading!
Translation of Pages 94 and 95
Five Questions to...Fumy Rita
Born in Moscow, raised in Lisbon, her roots trace back to Sao Tome and Principe. Now the Executive Director of Lagcoe, Fumy Rita speaks about the nonprofit organization which has as mission to increase awareness about energy through educational programs.
1.
How does LAGCOE want and make a difference for a better world?
Lagcoe has a long history of positively impacting the oil and gas industry. Since its creation in 1953, the organization has provided a forum for operators and service companies to come together and solve problems together. The organization became official in 1955 and has only grown since then. While the pandemic has brought new challenges, Lagcoe has maintained its position as a catalyst for positive change. The organization has implemented new programs to help those affected by COVID-19, including for families and unemployed workers. In addition, Lagcoe worked to provide access to its market platform to companies that needed it, thereby supporting economic development.
2.
What educational programs fulfill your mission?
For Elementary education we have the Little Energizers Program. The Professionals of Lagcoe go to schools and give presentations on STEM (science, technology, engineering and math) and build toys that demonstrate the impact of energy. For Middle School we are planning to implement the night at the museum and the STEM Fest. We will invite students to make articles derived from petroleum by-products and with that we break the stereotype that everything that comes from petroleum is dirty or bad. For high school we have the Future Energy Professionals (FEP) program, where we provide scholarships as well as opportunities to visit companies and connect with professionals who offer hands-on experience to students.
3.
And for those who are already in the job market?
For professionals who are entering the job market, we have the Energy Leadership Program and the Mentorship Program. Both with series that inform and educate our professionals not only about leadership, but also how to defend the interests of the industry politically, and how to deal with the problems and uncertainties that arise throughout their careers. We also have a program for CEOs and decision makers who also need to stay informed and always ahead of the curve. Our Executive Summit provides just that. A unique, personal opportunity for a select group of 50 decision makers who listen and learn from experts and disruptors to make decisions about the future of their companies.
4.
You have strong links with Sao Tome and Principe and Portugal. What is your vision for these two countries?
Although I have lived in the United States for over 25 years, I maintain strong connections with my hometowns. São Tomé and Príncipe and Portugal must seek new development possibilities, promoting digitization, technological progress, and human and environmental well-being. It is necessary to invest more in national and international projects that generate jobs, infrastructure and improve the living conditions of the population, without losing sight of local culture and entrepreneurship. In addition, it is essential to invest in education and training so that meritocracy is promoted and not favoritism, nepotism or political affiliation. It takes pragmatic leaders who are committed to causes such as protecting the environment, fighting climate change, economic development, gender equality and the transition to renewable energy.
5.
What is your biggest goal for Lagcoe this year?
LAGCOE is an organization with more than 68 years. There's a lot of tradition, a lot of history, and a strong connection to the oil and gas industry and our city of Lafayette, Louisiana. The organization is internationally known, but my goal is to expand the reach of the organization, to allow more partnerships and exchange of ideas and solutions, not only in the oil and gas arena, but also in the renewable energies space.
Direct Link to Forbes Africa Lusofona
Forbes launched Forbes Africa Lusofona in 2021, which covers Angola, Cape Verde, Guinea Bissau, Equatorial Guinea, Mozambique and São Tomé and Príncipe. The magazine is published bimonthly and is distributed throughout the six Portuguese-speaking countries. The magazine is operated by the Emerald Group, which also holds the licensing rights for Forbes Portugal.