back
A Tale of Two Cities - William Flores Jr.
Jul 10, 2019
A Tale of Two Cities: From the Hub City to Houston
William Flores, Jr.
by Julie Gauthier
William "Bill" Flores, Jr. was born in Lafayette during the heyday of the oil and gas boom. His father, a geologist, was transferred from Shreveport to Lafayette in 1954. Born and raised in Lafayette, Flores has fond memories of attending the LAGCOE expo with his father when he was a boy of 10 or so. He had always wanted to become an engineer, and after he graduated from LSU in petroleum engineering, he returned to Lafayette to work in the 1980s.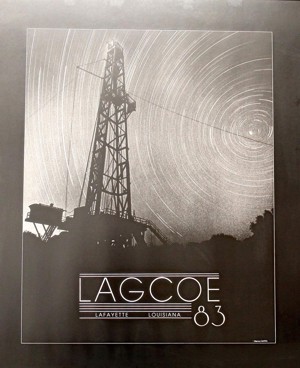 Exposition Poster from 1983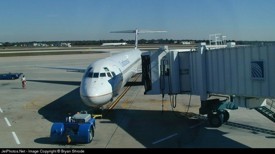 Continental MD-80 airplane,
parked at boarding gate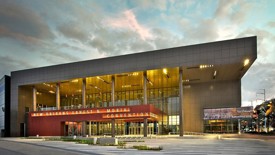 Ernest N. Morial Convention Center
in New Orleans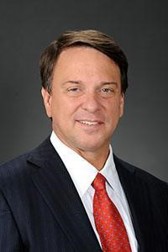 Bill Flores is a member
of the LAGCOE Board of
Directors. He currently serves as
VP of Special Projects and
Technology for Sable Permian Resources,
an independent oil and natural
gas company focused on the
acquisition, development, and production
of unconventional oil and natural
gas reserves within the Permian
Basin of West Texas.
In December of 1981, the rig count in America peaked at 4,500 rigs. Oil sold for $100 a barrel— 20 times what it had been just a decade before. But by 1986, falling demand and increased production had produced a massive depression in the oil and gas industry, in Lafayette and throughout the Gulf Coast. Many went out of business or left town for better opportunities elsewhere. Those that persisted were rewarded with a gradual improvement over time, and by 1993 there was a resurgence in the local economy.
Flores, along with his wife Mary and their two daughters, moved back to Lafayette from Mandeville in 1993 to work for Flores and Rucks, an independent production company co-founded by his brother, James "Jim" Flores and Billy Rucks. The business went public in 1994, and not long after in 1997, the company was renamed Ocean Energy, and within a year had acquired Houston-based United Meridian, adding new positions in West Africa, North Dakota and other Gulf properties. At that point, they moved their corporate offices from Lafayette and Baton Rouge to Houston, in order to better manage the growing enterprise. Another merger soon followed, bringing even more expansion.
With his daughters still attending high school in Lafayette, Bill began commuting to Houston. He and Mary would later move to Houston permanently in 2005. He went on to serve as VP of Deepwater for W&T Offshore until 2008, when he became Sr VP of Engineering for Houston Energy. In 2017, he joined Sable Permian Resources as VP of Special Projects and Technology, an independent oil and gas production company.
Bridging the Gap
Throughout his long career as a petroleum engineer, Bill Flores has remained deeply tied to Lafayette through both family and business connections. As a longtime board member of LAGCOE with a foot in both Lafayette and Houston, the Public Relations committee sought his help in 2000 to attract more Houston attendees for the upcoming show in 2001. Knowing that many large, big-name companies planned to be there as exhibitors — including Halliburton, Weatherford, Smith, MI, NOV, Schlumberger, Baker Hughes, Cameron, Offshore Energy\Newpark and Frank's Casing Crews among others — he had an idea.
"I asked LAGCOE for the names of these 9 biggest exhibitors," he said. "I had been working with a lot of these service companies, so I called them up and they all agreed to donate $10,000 to pay for charter flights to the show from Houston." With $90,000, he was able to secure two MD-80 jets from Continental Airlines. One would make the roundtrip flight on Tuesday and another would fly on Wednesday. "We knew we had to make it easy for them to attend," he explained, so each flight would depart Houston by 8:00 a.m. and return by 5:00 p.m. He also arranged to have buses waiting outside the airport to ferry passengers to the show grounds and back, with a police escort to smooth the path even further.
With only a month to go before the show in October, the September 11 attacks on the White House and World Trade Center shut down air traffic across the country overnight. Though the aviation industry was trying to return to normal by October, new regulations and safety procedures raised new difficulties for the charter plan.
"I went and met with TSA at the airport. I knew I had 150 people coming through on those flights each day, so I wanted to make sure they had enough staff available to move them through quickly. I also met with the Continental operations team and they assured me we could still make it happen," he said. Special permission had to be granted to bring the buses right up to the airport because security was so tight at the time.
In the end, both planes were full, the flights ran successfully, and attendees enjoyed the experience. They weren't the only ones: "We had the same pilots and flight attendants both days, and the captain said to me on the last day, 'Thank you so much for doing this trip. Everybody has been so freaked out about flying after 9/11. Getting a bunch of oil field people on here having good time, drinking wine and beer on the trip back ... we just needed a trip like this.'"
Given that success, the flights were organized again for 2003. The 2005 show had to be canceled in the wake of Hurricanes Katrina and Rita, but the charters resumed in subsequent years. Flores, with help from many others including assistants Kathy, Cathy and Debra, organized daily charters from Houston for each of the six shows between 2007 and 2017. But he noticed a major change in 2017; for the first time, he had trouble filling seats. And there were several no-shows.
A New Day in New Orleans
"It was frustrating because so many were working in West Texas and I couldn't get them to come to the show. I talked to everybody trying to get people to come," he said. When it was announced that the 2019 event would take place in New Orleans, he admits to being a bit relieved. "There are 2,700 commercial seats between New Orleans and Houston on Southwest and United," he reports. "I think my career as Head of LAGCOE Charter Flights has come to a graceful end."
While the move represents a major change for LAGCOE, Flores thinks it opens new possibilities. "It's the Louisiana Gulf Coast Oil Exposition so it isn't like it can only be held in Lafayette," he says. "I think moving the show to New Orleans can be a good thing. We can have it anywhere really, but it's possible New Orleans will be a greater draw than Lafayette because people may have other things they want to do while they're there, they might have other business to do there."
Flores also pointed out that the recently renovated Ernest N. Morial Convention Center offers premier exhibition space right in the heart of the CBD. With a wide choice of conveniently located hotels, attendees can easily take in other attractions in the area while they are there. "I think New Orleans is going to bring an infusion of fresh energy to this year's expo," he said.