back
Past Event
Professionals of LAGCOE Philanthropy Drive
Thursday, December 16, 2021 | LAGCOE's Office: 1018 Harding Street, Lafayette, LA 70503
Professionals of LAGCOE Philanthropy Drive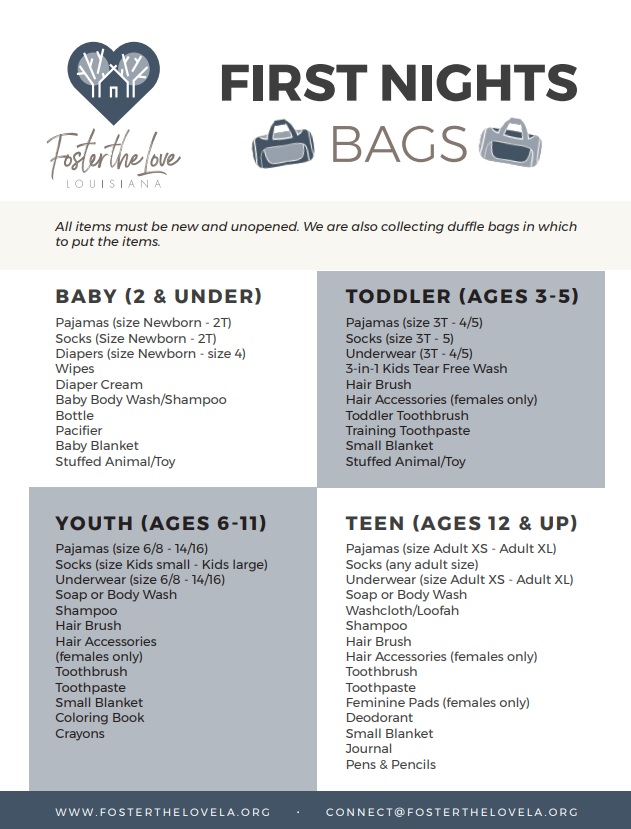 The Professionals of LAGCOE hosted a Philanthropy Drive from December 13-17, 2021, to benefit the organization Foster the Love Louisiana. Foster the Love serves various caregivers of the children in the foster care system. By supporting the families and individuals who have chosen to serve children in need of care; they help reduce the burden and stress, increase retention and simultaneously create a better experience for children in foster care. The mission of Foster the Love is to encourage and support foster and adoptive families; to empower and support children, youth and families affected by trauma; and to educate the community on the needs of the foster system.
The professionals of LAGCOE collected items from December 13-17 at the LAGCOE's office and donated it to help support the First Nights Program. Children often enter foster care with few or no personal items and many foster parents are given limited time to prepare for the arrival of a child placed in their home. The first nights can be hectic and stressful for children and foster families. The First Nights Program is designed to help meet the basic needs of a child during their first nights in care as well as support foster families when accepting new placements.
All items were new and unopen. Items were collected at the LAGCOE's Office, but also on December 16 at POUR-River Ranch, during the Professionals of LAGCOE General Meeting and then at the Annual Holiday Social.
Thank you for joining us in making a difference and donate to this great cause.
What: Professionals of LAGCOE Philanthropy Drive
When: December 13 - 17
Time: 8AM - 3PM
Where: LAGCOE's Office (1018 Harding Street, Suite 204, Lafayette, LA 70503)