back
Past Event
Little Energizers at BGCA - Granberry
Wednesday, July 26, 2023 | Boys and Girls Club of Acadiana - Granberry Location
Come volunteer with the Professionals of Lagcoe as we prepare to deliver one of our most fun and unique program - the Little Energizers Program at Boys and Girls Club of Acadiana at the Granberry location.
Lagcoe's Little Energizers host events in partnership with other organizations in Acadiana that serve to introduce children in our community to the wonders and excitement behind careers in science, technology, engineering, and math (STEM). By sparking an early interest in STEM, Lagcoe hopes to pave the way for the next generation of engineers, scientists, and innovators whose ideas will keep our energy industry growing, changing, and improving every day!
Volunteers will help conduct numerous science experiments, will read a book about energy, and will talk about their careers. Register to volunteer here.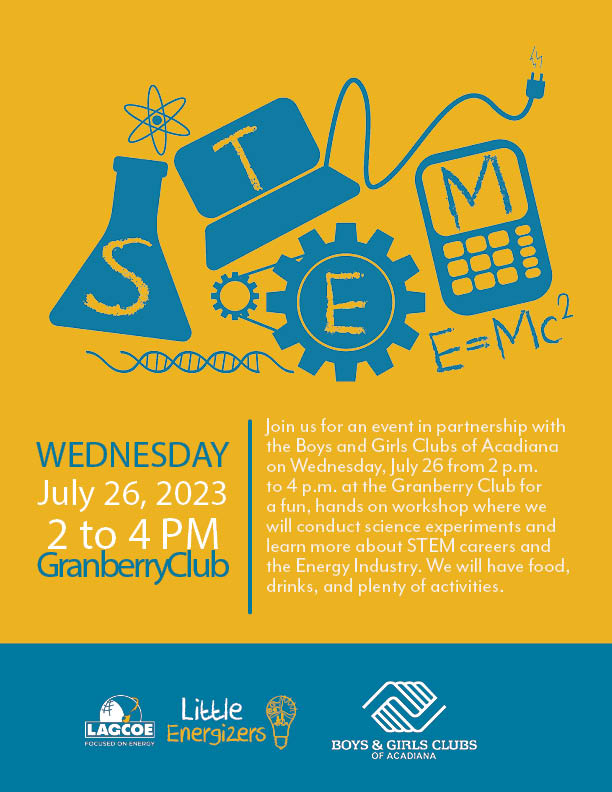 What: Little Energizers at Boys and Girls Club of Acadiana
When: July 26
Time: 2AM - 4PM
Where: Boys and Girls Club of Acadiana-Granberry Location