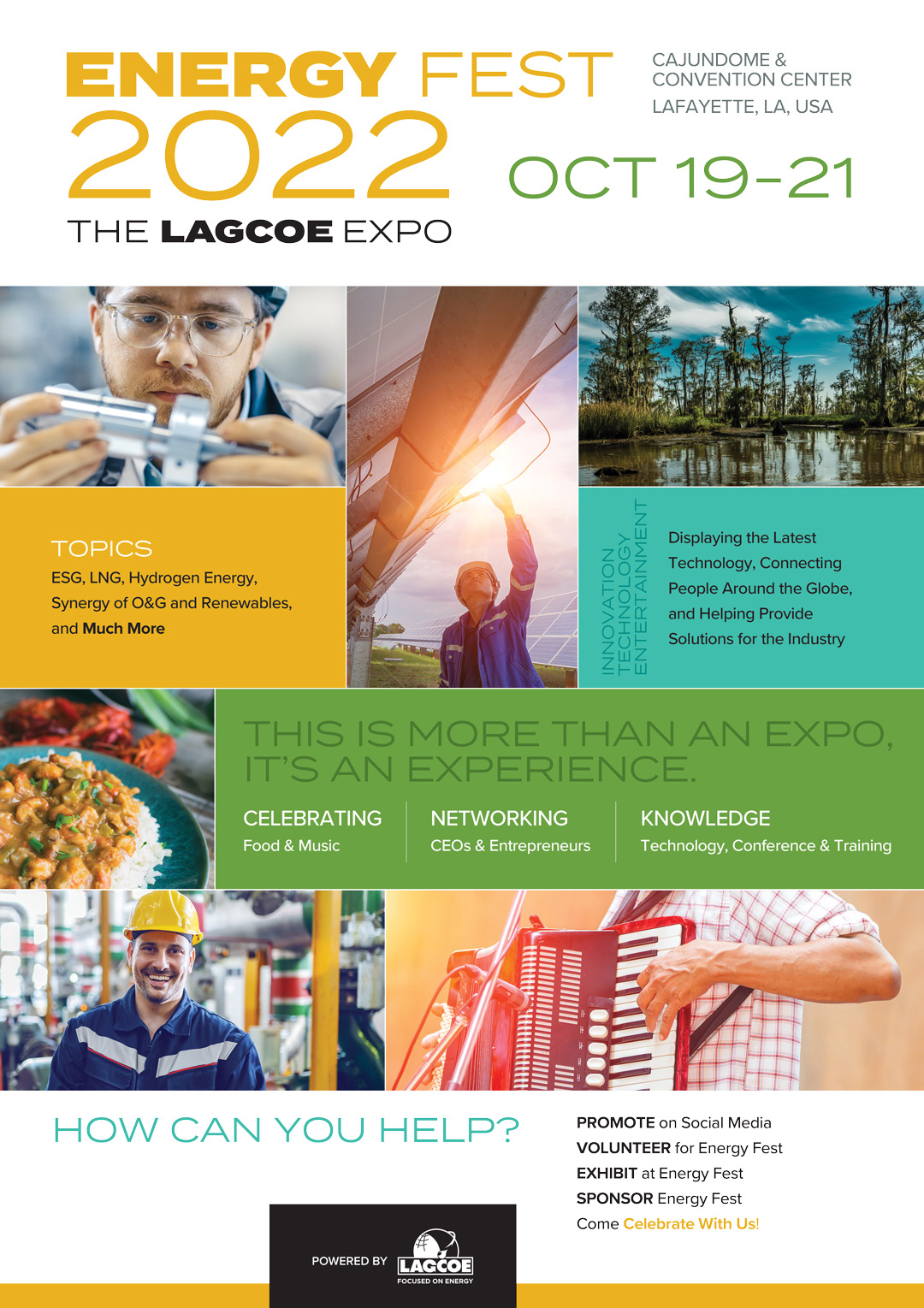 THANK YOU TO OUR SPONSORS
THANK YOU TO OUR MEDIA SPONSORS
THANK YOU TO OUR PARTNERS
What: Energy Fest 2022 - The LAGCOE Expo
When: October 19 - 21, 2022
Time: 9:30AM - 5PM on Wednesday, 9AM - 5PM on Thursday, and 9AM - 12:30PM on Friday
Where: Lafayette, LA., Cajundome & Convention Center
Energy Fest 2022 - The LAGCOE Expo is a progressive, festivalized event experience that will lead the energy industry into the future. This biennial Technical Exposition and Conference distinguishes from others for its vibrant show floor which fosters meaningful networking and educational experiences. Additionally, the conference and training portion of Energy Fest address pertinent topics which not only support all forms of energy but also discuss how we can work together to produce and deliver safely and responsibly Energy to America and the rest of the world.
During LAGCOE's 67-year history, we have witnessed, first-hand, the transformation of the energy sector. That is why in 2022, LAGCOE has chosen to highlight the culture, the innovation, and involve you in ways never done before.
Our culture has shaped the very fabric of who we are. It is this rich history that we are excited to showcase this year. Bringing in elements of the food, the festivals, and the southern traditions we hold so dearly in our hearts.
We have seen the growth of the energy industry. Sometimes it's painful, but in that pain, we innovate. Innovation is the key to becoming sustainable, and in 2022 innovation will take center stage as we delve into new technologies and emerging industries.
Day 1 Highlights
Day 2 Highlights