back
Women in Energy: Deborah McGuay
Apr 04, 2022
In celebration of Women's History Month and International Women's Day, LAGCOE is highlighting women who have been instrumental in the energy industry and supporters of our organization. Our intern, Meredith Privat, interviewed six women. Here is the fifth, and very special to us, our Ms. Deborah McGuay.
"If you have knowledge, let others light their candles in it."
—Margaret Fuller, journalist, editor, critic, translator, and women's rights advocate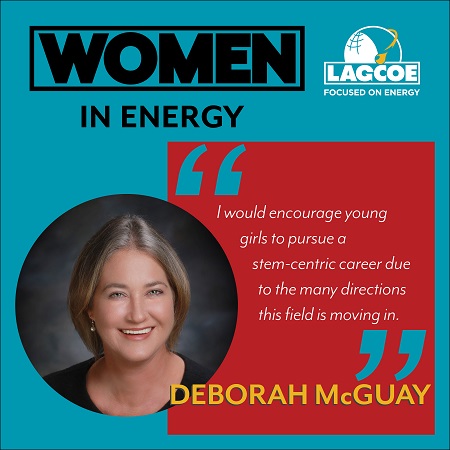 Women have had the challenge of being overlooked in history, though there have been many great contributions towards society that would not have been possible without them. We all know about famous names in energy such as Nikola Tesla and Albert Einstein, but what about Edith Clarke, inventor of the Clarke Calculator, or Lise Meitner, the scientist discovered nuclear fission? Americans highlight the overlooked figures by celebrating Women's History this month. To commemorate the month of March, LAGCOE will be looking at some modern women in the Energy Industry who have worked hard in their positions in various companies.
Name: Deborah McGuay
Company/Organization: LAGCOE
Position: Administrative & Accounting Coordinator
Deborah McGuay is the Administrative & Accounting Coordinator of LAGCOE and has been with our company for over three years. She has worked in the energy industry for nine years, previously employed under Franks International (currently known as EXPRO). Deborah is a valued member of LAGCOE's team and is always happy to help. When she is not working, she is involved with her son and granddaughter.
When asked about her experience in the energy field, Deborah stated, "The energy industry has provided me the opportunity to learn & excel in a field that I had no prior experience in. My knowledge has expanded immensely which I can also apply to my personal life and awareness." Often, this insight that many of us gain through working in the industry become valuable in our understanding of current events. "I thoroughly enjoy my time in the energy field. I have built long lasting relationships due to my career."
Deborah's insight into the industry allows her to see the various ways in which expansion is rippling throughout all divisions of energy. Because of this, she believes that more women should embrace the evolution of this field. "I would encourage young girls to pursue a stem-centric career due to the many directions this field is moving in." From geothermal energy to the advancements in oil and gas, there is a demand for minds who will shape the future of energy in more ways than we ever thought possible.
When asked if she ever felt as if she was at a disadvantage in this industry, Deborah said, "I have never felt I was at a disadvantage in the male dominated field. I have worked closely with many men and have been educated by their vast knowledge and treated with a high level of respect." While the industry is still dominated by men, the men within this industry have not only become more and more accepting, but also happy to work with, mentor, and be mentored by women.
One great thing about this industry is the thousands upon thousands of connections with people who have ideas, creativity, and critical thinking that help the industry as well as our insights into life. "I hope with my experience I am able to show that wherever you want to steer your career in this field, that you can take advantage of the men and women in this industry that are willing to share their knowledge along with the positive mentorship that I have seen firsthand." Deborah herself has been a great mentor towards the interns at LAGCOE, as well as the rest of the staff. Her greatest quality is that she is always happy to work beyond what is expected of her to make things go smoothly for those around her.
***
Blog entry by Meredith Privat. Meredith is an intern with LAGCOE majoring in Visual arts at the University of Louisiana at Lafayette.