LAGCOE Looey 2019: Mr. Cornelius Dupré II
Chairman of Dupré Interests & Dupré Energy Services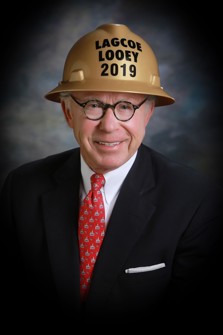 Cornelius "Corny" Dupré was born in Port Barre, Louisiana. He is the second of five children by Norma Lee Dupré and John R. Dupré, a WWII veteran and career educator. He is a proud Red Devil, graduating from Port Barre High School after a successful academic and athletic career during which he participated in football, basketball, track and field and band. In his youth, Corny was very active in the Boy Scouts, earning the Scouts' highest honor of Eagle Scout which instilled in him a lifelong love of the outdoors as well as his fervent support of the Boy Scouts of America. Corny continued his academic pursuits at LSU where he finished with a Bachelor of Science degree followed by a Master's in Business Administration and a Juris Doctor. He was a member of the Sigma Alpha Epsilon Fraternity while at LSU.
While attending LSU, Cornelius had various jobs. He rough-necked offshore for Kerr Mcgee, worked for the Louisiana Legislature and as a political consultant with Buddy Roemer (former Congressman and Governor). He ended up in Washington DC working with the Carter Administration. Upon his return to Louisiana, he briefly practiced law in Eunice from 1980 -81.
Corny ventured into oilfield services with his brother Bernie with their first business, Dupré Supply Company, in early 1982. While in Eunice, he met a number of young entrepreneurs who had their own service companies in the oil industry. These entrepreneurs convinced Cornelius to start a "supply" company after listening to him voice his displeasure with practicing law while sitting in duck blinds. Corny did just that; he listed his first distribution point as Eunice and his second as Lafayette, La. What the first Dupre' brochure did not mention was that the Eunice service point and warehouse was Corny's garage and the Lafayette one was Bernie's house! The Dupré Companies grew throughout the '80's to include a number of companies, including Dupre' Supply, Dupré Valve and Automation, Dupre' Piping Products and Dupré International.
Cornelius didn't even have a passport when his friend and mentor, Keith Mosing of the Frank's dynasty, invited him to the Aberdeen Oil Show. He and his wife, Celia, decided to move to the UK in the early '90's and stayed a number of years while growing Dupre' International. Although they moved back to the States in the mid-90's, they maintained a second residence in London for over 25 years and have a very special place in their heart for the UK. Upon their return to the US, the Dupré Companies merged with National Oilwell (which later became NOV) in July 1999 where Corny served as Senior Vice President/CSO until leaving NOV in mid-2004.
Cornelius is currently the Chairman of Dupré Interests, a private equity family office, serving in that capacity since founding the company in 2004. Additionally, he is the chairman of Dupré Energy Services, which encompasses several oil and gas service companies including KSW Oilfield Rentals, Pro-Tek Field Services and Diversified Safety and Scaffolding. He was also a founding member of EXXI, USWS and White Knight Production. He currently serves on the Board of Directors and/or has equity positions in Airis, Foundation Energy, Hoover Ferguson Group, Wellbore Fishing and Rental Tools, JVL Global Energy and Dynamic Chemical Solutions. Corny belongs to or is an active member of a number of industry organizations including: Society of Petroleum Engineers (SPE), American Petroleum Institute (API), Independent Petroleum Association of America (IPAA), International Association of Drilling Contractors (IADC), Louisiana Oil & Gas Association (LOGA), Texas Independent Producers & Royalty Owners Association (TIPRO), National Association of Corporate Directors (NACD), National Ocean Industries Association (NOIA), Houston Producers Forum (HPF), American Association of Drilling Engineers (AADE), Texas Alliance of Energy Producers (TAEP) and Western Energy Alliance.
Cornelius' philanthropic activities and interests have grown alongside his business success over the years. He is an active member of and donor to multiple organizations including Spindletop Charities, Sky High for St. Jude's, Sam Houston Area Boy Scouts of America, JDRF, Methodist Hospital, MD Anderson, The Cesar Kleberg Wildlife Research Institute (who named him "South Texan of the Year" in 2016), the CF Foundation (who honored him in 2014) and his own family charitable foundation, the Dupré Family Foundation. Dupre' Family Foundation has supported numerous charitable causes for nearly 20 years. Additionally, Cornelius is responsible for the building of a community library in his hometown of Port Barre in honor of his father and was also pivotal in the building of the new lower school library at The Episcopal School of Acadiana in Lafayette in honor of his mother.
Corny married Vickie English of New Iberia (former Sugar Cane Festival Queen in her youth) in 1980 and they had two children together, Houston and Angèle, who were both born in Crowley while the family was living in Eunice. He has been with his present wife, Celia Hickenbotam of Shreveport for 30 years. Celia has been a huge part of Cornelius' success as she travelled the oil patch throughout the world with him, constantly at his side, becoming known, loved and admired in her own right. They currently spend their time between Houston, the UK and their home in Colorado, where they visit as often as possible to spend time with their new granddaughter, ride horses, ski and enjoy all that the Colorado Rockies have to offer.